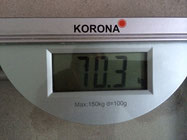 It's been a long time -
World Cup has begun,
Switzerland has won,
The luck hasn't gone.
I still feel well and my weight is supporting my feeling. The first time in my life I went above 70kg. This might also explain the suit incident of last Saturday and once again proofs the difference between men and women.
How women prepare for a wedding (guest only):
Monday: Choose the dress
Tuesday: Choose matching shoes
Wednesday: Change the dress
Thursday: Choose matching shoes
Friday: Change back to first dress and first pair of shoes
Saturday: 9am Hair-dresser, 11.30 dress and make up, 12am Ready
How men prepare for a wedding:
Saturday: 11.55 styling, 12am try the suit, 12.01 shirt is too tight! 12.02 try second shirt. Pray that the button will win the 16hours fight against the belly. 12.05 second prayer, this time that the air tube is stronger than the collar of the shirt. 12.06 fight with the buttons of the trousers. Round 1 - lost, Round 2: exhale, make belly small - won. 12.10 Air - check, shirt buttons - check, trousers - check, comment of girlfriend "You should have tried earlier if the suit is still ok" -check ;-)
Final comment: all buttons did a perfect job and the first time in a long time I had even enough air to dance (the dancing abilitie did not improve on Kalydeco though). I finally reached the 70kg, BMI is slightly below 25. If I go above 71kg I am a bit overweight. Should I try to prevent this (question to my doctor :-) )And I achieved all this despite a reduction of Cortisone from 20mg to 15mg. Kalydeco still seems to be working...