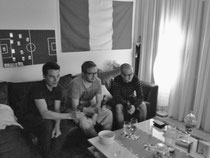 I'm sure everyone of you guys is bored today due to the missing football games in the evening and therefore I'm gonna use the opportunity to provide a further update and cheer you up a little bit. First of all  big thanks to my married friend Raffi who stepped by yesterday to watch the game - he's got a two day break in Switzerland after he has been in America for 2 weeks and goes to Italy tomorrow. I really appreciated it. Unfortunately yesterday's game was a neverending story and therefore it was 1.30 am when we finally went to bed. The bike tour for today had to be started under difficult circumstances, nontheless it went quite good. I almost did the whole 40km around the Obersee on the lowest support level on my e-bike, something I never managed to do before. Sadly enough the brunch break after 20km was a bit short and the waitress was a bit surprised when we left the big buffet already after 30 minutes. (By the way, my sweetie and her english class offered it - thank you!) All in all it was another successful trip and this makes me feel more and more confident for the future.
And finally, to cheer you up even more, a little joke which did not, but could have happened in my girlfriends class: Mother: "Did you enjoy your first day at school?" - Daughter: "FIRST DAY?! - Do you mean I have to go back tomorrow??" :-)
The married Raffi is the one on the left in the picture, the not-yet-married-Raffi is the one on the right. And of course also he (and his girlfried) deserve a thank you for yesterday's visit. The right-sitting-Raffi is the one who visited me to most to watch the games and he is most probably also the one who reads my blog the most. Thank you for your big interest, this really means a lot to me!
This brings me to an end and I wish all of you guys a very nice next week.