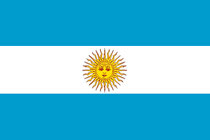 Only a few hours to go until the final game of the 2014 Worldcup starts. Argentina vs. Germany, South America vs. Europe, Messi vs. Müller, beef vs. pork knuckle, underdog vs. top favourite... I might upset my German readers and also my colleague at work (Mike) but I'd like to say that I support the Gauchos eventhough I'm pretty sure that the German will win today (but PLEASE not 7:1 again...). Basically I don't care much which team is gonna win the game tonight as long as the referee is not acting again like he didn't ever lead a football game before... He was definitely the whorst man on the field yesterday. I think there are four main reasons why I would like to see Argentina as the winner: 1. The underdog bonus, 2. My girlfriend bet on Argentina before the WM started, 3. Silver-Lining -> Silver -> in Latin Argentinum -> Argentina (quite logic, isn't it) and 4. roughly eight years ago I was wearing the argentinian shirt when my girlfriend and I came together.
But now to the more important stuff. Kalydeco seems to be still causing brilliant effects. Yesterday's 90minutes walk started a bit tough but after a little while I found the rhythm and felt perfectly comfortable. A few months ago I was quite exhausted after such walks but yesterday I felt as I could do the same route again. Also, my body seems to got used to the 10mg prednisone and the usual "heavy" feeling after a reduction is over. Another intersting fact is, that there is still very little mucus and it's more like light yellow and no longer the dark green colour which it was before (I hope no one is eating right now :-)). And yes, my BMI is slightly below the "little overweight mark". 71kg = 24.9... not the perfect timing as the holidays at the beach are coming up but I'm gonna postpone project "belly" until after the vacation. Right now I'm just happy that I was able to slightly increase the weight despite the prednisone reduction. And as most of the CF patients are underweight I think I should be thankful for the extra kilos.
The day after tomorrow we go to Italy for ten days, therefore there won't be any update during that time. I wish you guys all the best until then and I'm looking forward to an exiting game tonight.