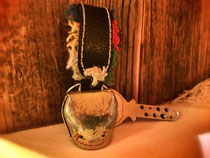 ...since I last updated you. Meanwhile there are two new Iphones available, it's getting dark at 7pm, the 2014 three-days-summer has gone and here we are in autumn again. Time for a brief review. Currently I'am healthy enough to go to the gym three times a week and it's success is clearly visible. Just the other day I found out that my body has actually muscles in the legs. What a feeling... The weight is stable at 72.6kg and this despite a further prednisone reduction. Currently I am taking 5mg and I've not been that low in years. I still rarely cough altough it's been a little more recently. Nevertheless I am still hardly able to activate mucus with the breathing therapy which I think is a good sign...
Furthermore my health insurance finally agreed on taking over the costs for the medicine which of course is again proof to me that also they are convinced by Kalydeco's effect. Currently they pay for another six months, then we need to review the situation again. I'm very happy and it's unthinkable how disappointing a negative decision would have been.
Other than that there's not much to say. I think I am facing now a crucial time period as october, november and december are usually the tough months. Almost every year I had to do IV therapies during these months. I am quite positive that I'm able to skip it this year. Let's see, I'll keep you posted....