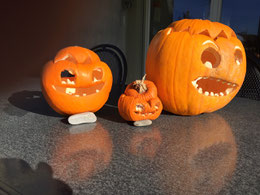 Yes - I know, it's either "Merry Christmas" or "Happy Halloween", but I am confused... When I was shopping end of september I actually spotted a shelf full of Christmas articles. Seriously?! Virgin Mary (if that's the proper translation) didn't even know that she was pregnant back then. The three kings were probably playing poker in some lame bar and the barn where the crib would be placed later was still a donkey parking lot. Come on, what's next? Easter bunnies on first of January? Or shall we celebrate the next Millennium in 2020? I am really annoyed by this whole "The earlier the better..."  attitude. And as a little sign of protest I post my rotten Halloween pumpkins. I know it was two weeks ago but I don't care. The look anyway crepier the older they get.

But now let's switch to the actual subject of this blog. My "course of health". Yes, I call it deliberately "course of health" because "course of disease" sounds always so negative. And I decided right now, that "course of health" is my personal "Word of the year 2014". Today I had my usual three-month-checkup and I must say my feelings are swinging between postive and negative. So first the not so satisfying facts. My lung function test as well as the "walk 6minutes as fast as you can " test were unchanged. I thought this should have improved. But I also have to say, that I had a horrible night with approximately three hours of sleep and I felt like I was hit by a car, no even by a truck (actually lets make it a space shuttle) when I woke up. Therefore I knew that it's not gonna end as expected. However the bright side is, that my blood samples were top notch, my weight is steadily at 72.6kg and my lungs are still dust-dry. Usually november was always the toughest month but this year that seems not the case. So either my body just forgot to switch the calendar or Kalydeco does still a great job. I go with the latter :-) Also I still manage to use the home trainer three times weekly and I feel really well. Summing this up, it's pretty clear to me that the positive effects predominate.

There's not much more to say... actually I'm thinking hard of a suitable ending for this text.... and the only thing which keeps crossing my mind is "Merry Christmas"!? Jeeeez......