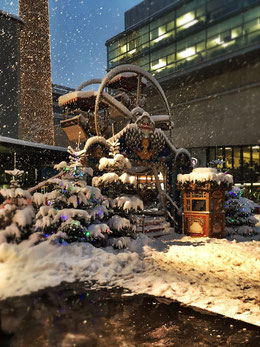 I know - it's been a long time since I last updated my blog. However, this is truly a good sign because it shows that a) I didn't have to go to hospital where I would have had time to write my blog and b) that I am able to have a normal life and that there's a lot of other stuff to think about than my disease. I managed to get through November and December realitvely easy. "Relatively" because beginning of December I had a small set back and I was coughing quite a lot. I convinced myself, that I can handle that without additional antibiotics and it actually worked out! Currently I feel pretty good and apparently my body is able to fight minor infections without medical support. An excellent experience :-)

2014 was indeed a very spectacular year, mainly of course due to the changes which Kalydeco brought. I wouldn't go as far as saying that it is a wonder medicine, but it still had some very positive effects, such as the increase in weight or the reduction of mucus. Nevertheless I can still not climb the nearby mountains and I guess I need to postpone this adventure for another few months or years. But I am happy with my current health condition and after all the most important thing is how you cope with your situation. You have to stay focused and positive and this will reward you with life quality. I am more than confident that I can Keep my current status or maybe even improve it a bit further. I am able to have a regular everyday life which is far from naturally. Many patients are no longer healthy enough to have a job or clean their appartments, etc... Therefore I am deeply grateful how healthy I am...
Coming to an end, I would like to say thank you to all of you. I received a lot of positive feedback and apparently Kalydeco not only helped me on a physical but also on a mental level. I am more open when it comes to my disease and can cope way better now with it. You can't really measure this effect with medical figures but it's still a very important factor.
Thank you and I wish you the very best for 2015 and of course that you all stay healthy and positive.