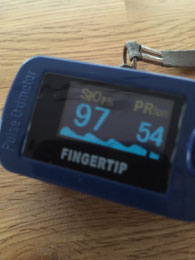 Since my last blog entry was apparently somehow not promising, today's update will focus on the positive signs. And they can be explained quite easily with my last four investments. First of all I bought a "Theraband", a cheap elatsic band with with I can train my arms and legs. Then I extended my gym membership for another year and I'm heavily motivated to continue my soft exercises. Furthermore I bought a SPBR. SPBR? That's a Semi-Profi-Badminton-Racket. My performance didn't really improve much with the new gadget, but every journey starts with one little step. And last but not least, the most expensive present to myself, a complete ski equipment. Two weeks ago we were on our yearly winter holidays and I realized, that I am now able to surive 2000m over sea-level without the constant fear that I will find myself in a hospital in a few minutes. Two years ago we've been on the exact same mountain and I could hardly breathe - this changed completely this year. One time I managed to complete the full ride from 2020m to 1400m without a single break. Astonishing! At one point I even thought I had overtaken Bode Miller :-) It was so much fun and this is why I decided to dedicate myself more to winter sports.

From a medical point of view, I reduced once again my prednisone. For the first time in six years I am now down to 2mg. This is less than our lady sausage dog needs :) And the values are still very good. In the picture you see what used to be my enemy. This little zhing mesaures the oxygene level and the heart rate. And it's actually my finger in there - 97% and a heart rate of 54... Brilliant figures which I didn't even know that they exist...
In a nutshell, the tendency is still very good. And in six weeks, it's my one year IV anniversary. It's been twelve months since my last antibiotics Treatment. This would be my 9 year record. Before I always had to do the therapy at least on a yearly basis, sometimes even twice or three times a year. So can I please ask everyone to clap your hands once? - and then touch wood! :-) You don't need to send me cakes or stuff, instead you could donate the money to your local CF Organisation (the swiss one is www.cfch.ch). They really need the money and they will be extremely grateful for your donation.
Thanks a lot folks, and see you soon!