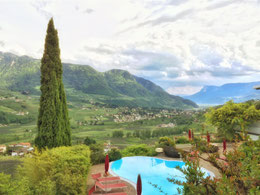 Searching for some sun - that's why we decided to spend some days in northern Italy last week. After ten days of non stop raining in Switzerland our hands slowly turned into flippers and therefore we booked spontaniously two nights in Dorf Tirol. My feelings about this village are quite bad. We've been there last in 2008, seven years ago. Back then I felt terrible and my condition was pretty serious. So serious that had even taken two oxygene bottles with me. My radius was extremly small: Hotel room, pool, restaurant. That was it. Taking walks or riding a bycicle was simply unthinkable. In the end we even had to leave earlier. During a therapy session in the morning I was coughing blood the first time in my life. A very bad experience. We went home the same day where I had to go another two weeks in hospital for IV treatment.

Funny enogh the hotel we had booked this year was only a few meters from the hotel back then and therefore all these feelings flashed my mind again. Luckily this time it was completely different. No oxygene tanks, no blood-coughing-experience a 42km bycicle tour and a 1.5hrs walk. Already while we were driving there I felt the difference. There's a 2500m mountain which you have to cross and I always used to get sweaty hands, breathing issues and a very uneasy neeling. None of this happend this time.

This very positive development during these seven years is far from normal. Unusual in any sense since normally the curve tends to the opposite direction - down. I'm very happy about this trend and of course incredibly grateful. Every little change provides me with a positive feeling and altough my last lungs funtion check two weeks ago was still crappy I am more than happy with my current condition. I have got enough air to move, to do some easy sports exercises, to handle a normal everyday life and finally to live. And that's the main thing. Air to live... what else do you want. That's already more than one could have expected seven years ago. That's why I focus on all the positive changes and do not let me get demotivated from bad lung function checks.

By the way, in two weeks this blog has his one year anniversary. I will then publish some facts and figures about the visitors and their home countries here. Quite intresting, you'll be surprised... :) See you soon folks!