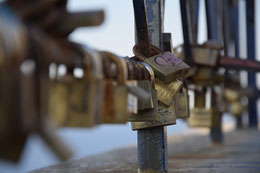 ... not so much actually. And yet it's already been three months since my last update. Time's running and just a few minutes ago I received my 17th Kalydeco package. It's still a very special moment everytime when the mailman is delivering the seemingly unusual package, not knowing how incredibly valuable the parcel is thathe's holding in his hands. Undoubtably a certain routine has come along now, but it is still the little blue angel to me. A blue little pill which has brought so much change to my life, no IV thearapy since 15 months, much less coughing, reducing my daily cortisone dosis by factor fifty, not a single day of sickness, a bit more air to breathe and a more or less easy everyday life. Of course there are questions remaining. Why did the lung function not increase more? Why am I still struggling to climb several sets of stairs? Is there any room for improvement after all or are my lungs too severely damaged? But if you think about it, these are to wrong questions. I shouldn't always want more and more. I should be happy with the current situation. I managed to stabilize my condition. Altough it's not going straight up there is still a slight tendency pointing in the right direction which sadly enough is the contrary to the usual development of CF. And this is what I have to take as motivation. I don't need to finish a marathon to be happy. I'm blessed enough to live an independent life, to go to work everyday and to enjoy the time. I am grateful that life has provided me with this opportunity.

And now sentimentality off. What else is going on? It's already been more than a month since my holidays and we spent two beautiful weeks in Italy with many long walks, usually between 5 and 10km a day, uphill and stairs included. Walks which I probably couldn't have done with Kalydeco. Unfortunatley I didn't exercise very much and it's been over three months since I was last on the hometrainer in the office (hometrainer in the office... sounds weired...). But yesterday I finally managed to do a session over lunch time and I was a bit worried how bad it would be. But lucky enought I only lost about 5% of my top level. I think I should get back there in no time.

And then there's some other great news for all the F508del mutants. There is a new medicine called Orkambi. It's been developped also by Vertex and should be available already in 2016. Of course there will be again discussions whether it will be covered by the insurance since the lung function will not increase drastically. But it reduces the danger of infections heavily and that's the main thing, isn't it? Check out the two links for more information: link1, link2.

And last but not least: stay motivated. Take on the fight. CF says it all: Constant Fight! :_