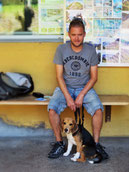 I'm happy that you finally reached my homepage on your journey through the worl wide web. I don't know why YOU ended up here but in a minute you will find out why I am here...
Why am I blogging...

Why should someone start a blog at all in 2014? One could think there's no more to blog about but I decided otherwise. I was inspired by dozens of other blogs which I checked out after I returned from a doctor's visit on the 23rd Mai 2014. In that specific meeting my doctor told me that I my Cystic Fibrosis Gene was determined as G551D. For exactly this rare mutation there's a medicine available called "Kalydeco". Here I would like to share my experience with Kalydeo and try to explain how Cystic Fibrosis works generally.
And now have fun!
I try to design the page as exciting and informative as possible. However, as I am a complete newbie, I'll probably need some time until I found my style. Therefore I beg your pardon. If you find spelling mistakes feel free to print them out. You can keep them! :-)