Born on the fourth of June...

...1982. In Rüti ZH, 7 a.m. sharp. It was going to be a hot early summer day und apparently it was a very quick birth without any issues. I can't remember the day in detail but after the easy birth a much more comlicated time should follow.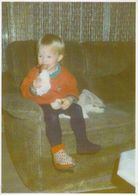 The first view months haven't been unusual. I grew normally and soon I could walk and speak. Looks like I was one of these children who couldn't stop talking. The only time I didn't speak was when I was eating. Like on that picture on the right where I enjoy a way too big sausage. (If someone finds my left shoe let me know - still missing it)
As time went by, my mother notice that I kept having digesting issues and I looked undernourished. Therefore, when I was three years old, we had to visit the hospital for children in Zurich, where of course again, I couldn't shut my mouth and called out "look - hecilopter" when I saw the emergency helicopter landing on the roof top (apparently the word "helicopter" was a bit to complex for my speech area, meanwhile I am able to say it without major problems).
At any rate, that doctor's visit in the hospital changed the life of my parents - and also mine - fundamentally. With a sweat test they I was diagnosed with Cystic Fibrosis (CF) and my life expectation was drastically reduced. Back then CF was a so called child disease as most of the people died before they grew up. The average expectaction was somewhere around 12 years and the doctor explained this to my mother very seriously and not giving any hopes. Following that kick-off meeting with Dr.Schmerling we had plenty of other visits with him of which I mainly recall the supersized play books in the wainting room.