Next stop - lowest point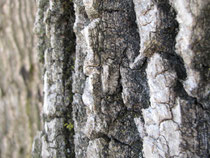 During 2007 and 2008, I was have an inpatient IV every now and then. About every six months I went to the hospital to get the hard stuff. Of course this was not at all voluntary and therefore I always waited until I could hardly walk anymore. I was always completely at the bottom when I finally went to hospital and I needed several weeks to recover again. In late fall 2009 I might have exaggerated a bit and the already the few steps to the reception of the hospital have been a real challenge. An oxygene saturation of 76% confirmed my awful shape and therefore I was put on intensive care for the first two days. I was connected to several machines who were observing my heart, blood pressure, oxygene saturation and of course I had to wear an oxygene mask set to 6l/min - long in short, I felt splended.

On the second day, December 6th 2009, Santa Clause visited the patients. When he came into my room he must have been quite shocked. Seeing me - lying there, only 27 years old, connected to many different computers and machines - that was a bit too much for him and he left the room deeply shaken by this view. The next day I could leave intensive care and was moved to a regular room. But my shape didn't improve much and I was still not even able to manage the view steps to the toilet without the oxygene mask. It was very frightening.
The doctors tried a variety of antibiotics, none of which had an effect. After ten days they finally resigned and the head of the doctors wanted me to do a bronchoscopy in order to check the bacterias directly in the lungs and analyze them accordingly. That's why I was moved with the ambulance from Uznach to St.Gallen. I was put in a room with two beds and my neighbour was an old man, wearing a mask which supported him in breathing. He struggled to get enough air and I thought that he was going to die the very next minute. I was really scared by this sight and I felt awful. On the very same day, December 16th they did the bronchoscopy. Unfortunately they couldn't do an anesthesia because my oxygene saturation was too low. The following 30 minutes seemed like a near death experience. I was gasping for air the whole time and water filled my lungs. I felt like I was suffocating.
After that I was moved to my room again. And after my mother had a phone call with Dr.Bühlmann in Zurich, he was able to get hold of the doctor in St.Gallen which agreed on moving me in a single room. On the same evening I met Dr.Schoch the first time who was working in pneumology. He is an expert in complex lung diseases and he spotted the issue immediately. He realized that the 2.5mg Prednison were way too low and increased the dosis to 50mg. This change had a miraculous effect and the next day I already felt much better. I could even reduce the oxygene level from 6l to 4l.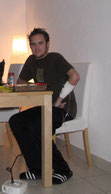 Christmas was ahead and I recovered right on time. I was given a portable oxygene tank and a little pump filled with antibiotics and I could leave the hospital. It was December 24th and instead of the usualy big Christams dinner we were having a delivered pizza. The rest of the therapy I finished at home and by the end of the year I got also rid of the oxygene mask. "That was close - this could have ended badly..." I thought to myself and I was very happy that I finally could go to the toilet again without the 15m oxygene tube.
Soon I recovered from the turbulant time of last year and started working again. Meanwhile I reduced to 80% and therefore I was off on Wednesdays. It was a welcome break in mid-week and I could use the day to recover and have my doctors and physio therapy visits. On the remaining four days of work I could fully focus on the job. The 80% decision was something which Dr.Bühlmann proposed after they had big successes with other patients. Nevertheless I switched doctors after the intensive time end of 2009 and was now seing Dr.Schoch from the hospital in St.Gallen. To me it seemed as this was a very succesfull and experienced team and I felt perfectly safe there. Sadly enough, Dr.Bühlmann passed aways soon after and his patients had to go through a tough time finding a new doctor. It must have been destiny that I was not one of these as I already had this change a few months before.