Nokia 8310

I applied for a job as a sales assistant in the mobile phone business. Without any expierence in selling or the work environment generally I went to the interview with the regional head of a major mobile phone retail company (mobilezone). Apparently my big mouth was very helpful for once and so I got the job, basically not knowing a single thing about all the different phones and contracts.
Soon I found out that I loved selling stuff to people and I put all my energy in the job. Once I managed to work 14 days in a row, including Saturday and Sunday, 11 hours a day without lunch breaks. It's astonishing what one can achieve if its done with passion. As I always loved technology this seemed to be a perfect symbiosis of using my eloquence and information technology - long in short, I felt awesome.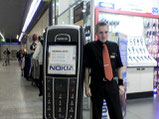 My break of school lasted 11 months and there was a nice little sum building up on my bank account which I needed for the soon following time at university. From time to time I made my self a present, one of these fantstic mobiles and so I owned 11 of these when I quit in July 2002. It was time now to think about my future and what I wanted to study. I spent many hours on the homepages of the two biggest universities in Switzerland, trying to find out what suited my abilites best.
A former school mate in grammar school made my decision easier. He decided to study electrical engineering at ETH Zurich. "Technology can be studied? That's perfect!", I thought to myself and we both started our time at university in September 2002.
During my break from school and my first steps in the working environment, my disease was still not showing its ugly face. I saw my doctor only for the regular once-a-year-check and I still felt splendid and was able to manage everyday life easily. But since I was no longer doing sports in school, not climbing the endless stairs to the class rooms and generally not doing any sports anymore I should soon find out that this was going to have serious consequences...