Dear sweetie...
Still confused and at the same time very excited I am sitting in my car. I can't start the engine yet and I don't want to. I grab my mobile and call my girlfried. It's difficult to share all this information when not even I understand what is expecting me. I don't want her to have huge expectations as she could possibly get disappointed. I try to make the call as calm and objective as possible.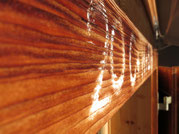 In the end the emotions get too high and she bursts into tears. Maybe I was just given many many years of living. Maybe I can really climb that mountain near my house sometime. Maybe this was my last IV for a long time. Maybe...
I try to calm her down and after 20minutes I happily hang up.
Next is my mother. 25 years ago she told me that maybe sometime there will be a pill which changes everything. "The pill which makes you healthy.".. Maybe this pill has become reality.
She's also completely overwhelmed by the news. It's my brother's birthday and maybe from today on this is also my second birthday. Here they are again - the incredible hopes and expectations. Again I try to calm down.